Mr. Barnes: The Man Behind the Beard
Hang on for a minute...we're trying to find some more stories you might like.
Mr. Steven Barnes is a West math teacher, Plymouth-Canton resident, well kept bearded man, hockey player, computer programmer, big brother, loving son, video gamer, woodworker, and soon to be husband. He is someone who is terrified of heights and creepy crawlers. Outside of his foolish fears, he is a well-rounded person. Mr. Barnes, who started as a Kids Time teacher, is always willing to help his students. However, when he attended Central and Discovery Middle School he admits, "…I didn't like school one bit." Now that he is a teacher, his message to students is to develop good habits now and not to procrastinate. 
His family is a major part of Mr. Barnes's life. Mr. Barnes admits, "[I'm] definitely closest to my brother, being one year apart, we did a lot of stuff together. We still play hockey together and all that kind of stuff." Mr. Barnes's younger brother is named Matt. Matt Barnes is a chef at the London Chop House in Downtown Detroit. Mr. Barnes's favorite childhood memory was playing street hockey with Matt and friends. Overall, Mr. Barnes concluded, "It was a good childhood."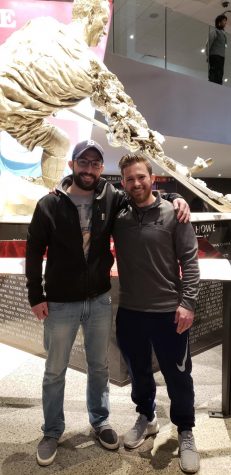 During college, Mr. Barnes was confused about what he wanted to do with his life. He even quit his Outback Steakhouse job after one day! He didn't always want to be a math teacher, although math has always been his favorite subject. Mr. Barnes first went to school for engineering. Then, he changed his mind and went into teaching. As you can imagine, changing majors resulted in adding years to his bachelor's degree. Mr. Barnes took a long time to finish college. Talia Wassel, a seventh-grade student, said, "Yeah, he is very social with his students and he always makes sure we know what to do before he moves on."  His students are really glad he decided to switch to teaching.
This year is Mr. Barnes's fourth year teaching. He taught at Kids Time for eight years at Farrand and Bird Elementary School. Mr. Barnes attended Schoolcraft College, University of Michigan (Dearborn), and graduated from Eastern Michigan University.
Mr. Barnes will be saying his wedding vows this summer! Mr. Barnes's soon to be wife is named Brandon and they met when they were both working at Kids Time. "She is a surgical assistant for an oral surgeon…"  Mr. Barnes and his fiance enjoy going up north and occasionally play video games together.
In the evenings, Mr. Barnes is part of an unexpected trio of hockey players which includes Mr. Smiley and Mr. Majszak.  Mr. Smiley states, "He is fast, agile, and has clearly been playing for a couple of years." Mr. Barnes plans to return for his second year as a cross-country coach at West and is thinking about coaching track-and-field.