White Chocolate Peppermint-Dipped Cookies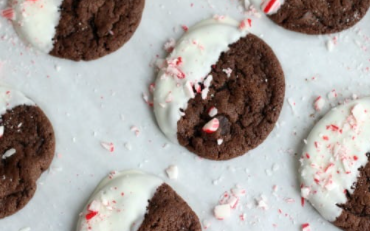 "Smells pepperminty, and chocolatey." It is very chewy and this is a very good cookie." Said Mr. Smiley. These white chocolate peppermint-dipped cookie recipes from
cooking classy
are a great holiday dessert! A tip before you make these cookies is to not overbake them and follow the recipe. Have fun and Happy holidays!
Ingredients
1 2/3 cups (237g) all-purpose flour (scoop and level to measure)

1 cup (98g) unsweetened cocoa powder (scoop and level to measure)

1 tsp baking soda

1/2 tsp salt

1 cup (226g) unsalted butter, softened about halfway (it should be fairly firm still)

1 1/4 cups (250g) granulated sugar

3/4 cup (160g) packed light brown sugar

2 large eggs

2 tsp vanilla extract

1 tsp peppermint extract

16 oz. white chocolate, broken or chopped

1/4 cup (approx) finely crushed peppermint bits (I used the King Leo ones)
Instructions
Preheat oven to 350 degrees. Line baking sheets with silicone liners or parchment paper.

In a medium mixing bowl whisk together flour, cocoa powder, baking soda, and salt for 20 seconds. Set aside.

In the bowl of an electric stand mixer fitted with the paddle attachment cream together butter, granulated sugar,r, and brown sugar until well combined. 

Mix in eggs one at a time then blend in vanilla extract and peppermint extract.

With mixer set on low speed slowly add in flour mixture and mix just until combined.

Scoop dough out by a rounded tablespoon (about 25 grams each) and shape it into balls (if the dough is sticky you can chill as needed but mine wasn't sticky at all).

Space on cookies sheets 2-inches apart. Flatten cookies slightly. 

Bake one sheet at a time in preheated oven for about 8 minutes (cookies should appear slightly under-baked). 

Let cool on baking sheet for several minutes then transfer to a wire rack to cool for 5 minutes then transfer to an airtight container to fully cool. 

Once cookies are cool, melt white chocolate in a microwave-safe bowl on 50% power in 30-second increments, stirring between intervals until melted and smooth. 

Dip half of each cookie in white chocolate then transfer to parchment paper and sprinkle with peppermint bits. Chill to let the chocolate set for about 10 minutes. 

Store cookies in an airtight container.

Enjoy the cookies!