Tips And Tricks For Dogs & Puppies!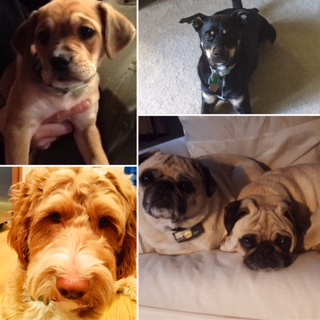 Hang on for a minute...we're trying to find some more stories you might like.
Do you have a dog that you just got or a dog you have had for awhile? If you answered "Yes" to these questions. then this article is for you. 
Dog's are living creatures with personalities. They choose what they want to do just like us. They can listen or they may not! They do want they want! Typically, dogs listen when treats are involved.  Owners should not just give their dogs treats for no reason. Owners should always keep challenging their pups and teaching them new things. We have some tips and tricks that you can teach your dog.
All. dogs are different. Each dog will need a different amount of treats based on their size, and not all dogs like the same treats.  Some brands for doggie treats are Zuke's Mini Naturals Healthy Moist Training Treats, Wellness Well Bites Soft Natural Dog Treats, Pet Botanics Training Rewards Treats for Dogs, Rocco & Roxie Gourmet Jerky Dog Treats, and PureBites Beef Liver Dog Treats. If you keep giving them the big treat every time, chances are your dog will get sick. So using small treats is the way to go. This is also good for bigger dogs because they tend to be more stubborn along with girl dogs. Remember, everything takes practice. Your dog may not master the trick on the first try. 
TIPS: When you start training your dog, get a bag of treats and put it in your pocket for easy access. Also, get a treat jar and put it in a cabinet so you don't have to keep grabbing treats out of the bag and so your dog doesn't eat them all. Along with that, you should teach your dog a trick one at a time.
Sometimes we feel the need to have our dog(s) do tricks for someone to show off or just to see them do it. There are many tricks your dog can learn. Some are more basic, but some take time,.
1. "Sit"
This trick is pretty basic. All you need to do is say "Sit" and press their bottom to the floor. Each time their bottom his the floor, give them a treat. and repeat sit and then give them the treat. 
2. "Roll Over"
This one takes a lot of time so be patient! You want your dog to do lay down, once they do that, you put the treat on one side of their face and do a half circle to the other side then say "Roll Over" and give them the treat. Keep repeating that until they do it with you. Once they do it on their own, reward them with positive words, cuddles, and treats!  Make sure to congratulate them on every trick because then they are more likely to do it next time.
We hope you learned a lot from this, from the training and the tips. If your dog does one of these, congratulate them with a big treat or extra food.