Who Will Win the NBA Finals?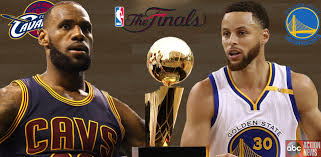 The Cleveland Cavaliers are playing the Golden State Warriors. Game one of the NBA finals will be at the Warriors home court of Oracle stadium. On the 31st (Thursday) at 9:00 PM on ABC.
Aidan Mattina, a seventh-grader at West Middle School stated that he watches basketball a lot and would like the Warriors to win it all. Aidan also exclaimed that the series should only take about seven days (five games) and that his favorite player is Stephen Curry. Aidan's favorite team is the Boston Celtics, but sadly they lost to the Cleveland Cavaliers in the Eastern Conference Finals in a long seven-game series.  
Andrew and I (Wesley Hart) think that the Golden State Warriors will win the NBA Finals. One reason why we think that the Warriors are going to win it all is that the Warriors have been to the NBA Finals four years in a row and have won three of them. The only series that the Warriors lost was against the Cavaliers and their star shooter Klay Thompson was injured in the NBA Finals. Another reason is that Lebron James is the only player on the Cavs with more than 15 points per game. The Cavs will need a lot more offensive firepower to beat the Warriors.
Who do you think will win? The Golden State Warriors or the Cleveland Cavaliers. Remember to tune in on ABC for Game three of the NBA Finals on June 6th.