Spilling Tea On James Charles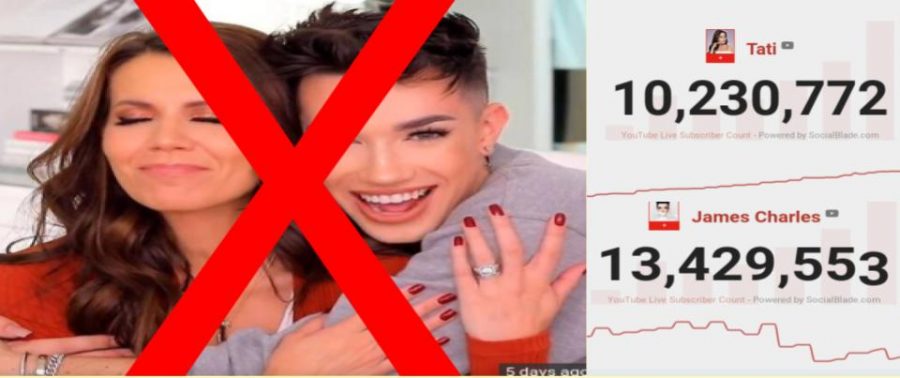 Molly Baker, Marisa Cribari, and Makaila Barker
May 17, 2019
Hi sisters! James has recently had serious tea with sister Tati. Do you want to have a little sip of the tea? Well, let me just say that the tea was so hot that even sister James was spooked. Turns out James betrayed his dear friend Tati Westbrook and left all of us sister shook. This betrayal cause James Charles to lose 2 million subscribers in 1 day. James Charles, if you don't already know, is a make-up artist and beauty influence on Youtube.
Tati Westbrook, James Charles's mentor, owns a company called Halo Beauty. Tati's company sells a booster for hair, skin, and nails. Tati also sells a kiwi seed booster that is just for your skin. Halo Beauty's arch-rival company, SugarBearHair, sells vegetarian hair vitamins, vegan sleep vitamins, and vegan multivitamins for women.
On April 22nd, James Charles attended Coachella. The crowd unexpectedly became "unsafe".  SugarBearHair was able to provide protection for him. In exchange, James Charles did an Instagram ad for SugarBearHair's sleep vitamins. After Tati saw this, she was saying on Instagram how she was feeling "betrayed" and "lost" by an anonymous person. Tati later revealed in her video titled "Bye Sister" that the "anonymous person".
After Tati outed James Charles, James lost 2 million subscribers in 1 day. That was a record for "Most lost subscribers in one day" on Youtube. On the other hand, Tati hit 10 million subscribers very quickly.
 Ella Miller, a West seventh-grader, informed us that she didn't unsubscribe and that she thinks that since people make mistakes they deserve a second chance, including James. On the other hand, Sadie Mathew, another West seventh-grader, wasn't subscribed to James, but if she was, she would've unsubscribed. Sadie doesn't support James through this sister situation because of his inappropriate actions.
All in all, James is losing millions of subscribers by the day. Bye sisters!