Is Cross Country the Sport for you?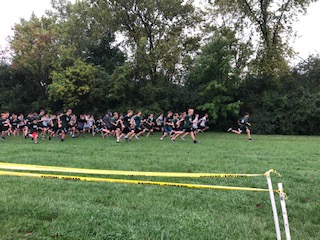 Tess O'Donnell and Marisa Haratsaris
October 4, 2019
Are you thinking about doing a middle school sport? Cross country might be for you. The season starts on the second day of school to the middle of October. Run for West Middle School. Be Greater, Be Kinder, and Run Faster!
Last year, our West Cross Country ( XC) team was undefeated and won the league meet. The XC team practices every day after school from the time school ends to 4:30 pm, with the exception of Tuesday were practice ends at 4:00 pm instead. 
The three cross country coaches are Mrs. Horvath, Mr. Wooster, and Mr. Barnes. There are also 8th-grade captains: Lily Hetzel, Lily Gumber, Aaron Burns, Emerson Nordebeck, Ellie Newman, Claire Hammill, CJ Baffy, Frances Walewski, Elizabeth Kelly, Liz Plymale, Evan Higgins, and Maya Mitts.
Mrs. Horvath states, " [being undefeated] was awesome. It was really cool to see. Some kids are there just to learn how to run, some kids are there because their friends are there. It's really cool to see kids get faster, and I can tell that kids are working out outside of practice. They're running all summer long to prepare for the season. So, it's very cool, it's great to see everybody grow, and watch people be competitive."
Mondays for cross country are speed days! We run 2 miles in sprints and get a break in between every ¼ of a mile. On Tuesdays, we do a good luck pre-race fountain run, where we run to the fountain in the park, and Coach Horvath does a meditation of what race day will look like. Wednesdays are race days! We compete against different middle schools in the Plymouth Canton Community. Thursdays are Distance and recovery run. We run at a slower pace and take it easy as we go on our longest run of the week. Fridays are hill days and the team gets popsicles. We run to a hill in the area and run up and down it at least 3 times and then run back to West. 
In addition to running, the team does a scavenger hunt in DTP, goes on an ice cream run, and themed days (superhero day).
The League Meet is always at Cass Benton Park on Hines Drive in Northville. The course is very hilly and in the woods. The other courses are at Heritage Park in Canton. These courses are flat and around the pound. The team trains by running "off-campus" and to McClumpha Park. 7th and 8th graders race 2 miles. Sixth graders run 1.5 miles.
Cross Country is a great chance to meet new people, learn how to be a better runner and to keep active, all well running for West Middle School.