The Choir Concert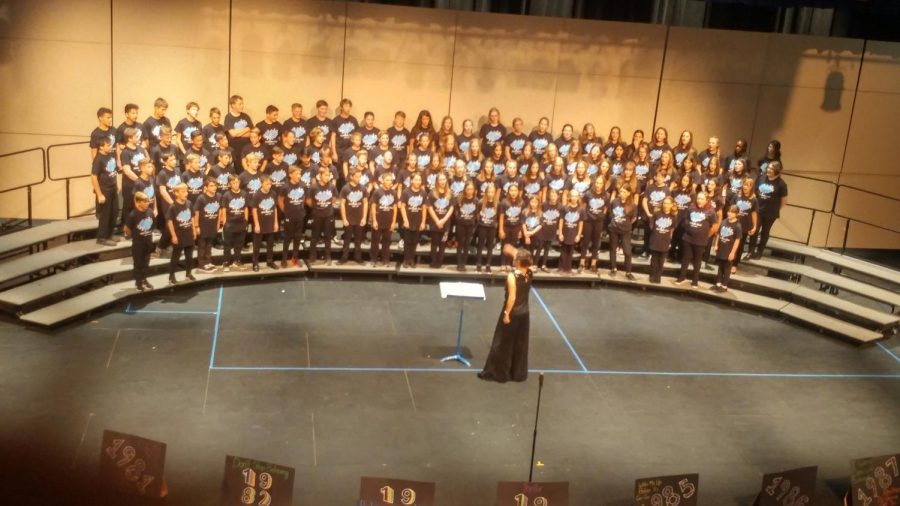 Selena Francis, Reporter
October 23, 2019
West's choir concert was on Thursday, October 17. It was the first concert of the school year. The theme was "Back to the 80." Mrs. Grady and her 6th, 7th, and 8th-grade classes performed at Salem High School.
The concert began with all 6th, 7th, and 8th-graders singing Gloria Estafon's song "Conga". Then the 6th graders took the lead with Michael Jackson's "Thriller". 
Next all-male choir students joined together to sing Eddy Grant's "Electric Avenue".
Then all seventh-graders performed. They performed Billy Joel's song "The Longest Time" and Dolly Parton's "Nine to Five".
After that, all the female students followed singing Madonna's "Material Girl".
Lastly, either grade students sang "Wake Me Up Before you Go-Go" by Wham and "Dance with Somebody" by Whitney Houston. 
The concert ended with all the choir groups coming together to sing "Don't Stop Believing' " by Journey. 
    Daphne Fisher, seventh-grader, said that choir is really fun. Daphne said that Mrs. Grady is a lot of fun and she's really nice. 
Marie Grahor, another seventh-grader, likes being in the choir because she says it's a lot of fun and sometimes you get to pick out what the concert is going to be. She thinks that Mrs. Grady is an awesome teacher. We hope to see Marie singing in choir in Eighth grade too.
It felt like we went back in time and we were listening to the radio. The performance was entertaining. Hearing the students sing made me want to join choir. The students were proud of the great singing and I could tell Mrs. Grady was too!