Netflix vs. Disney Plus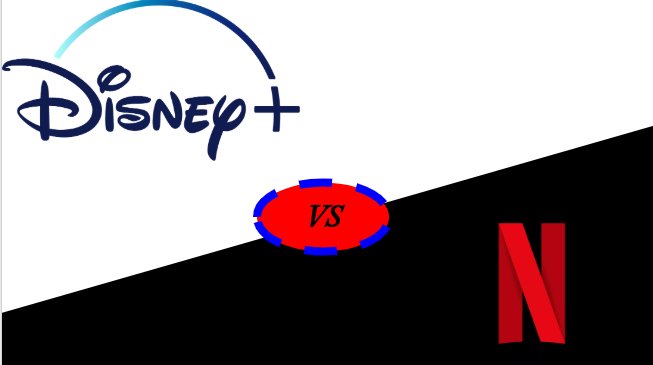 Netflix and Disney Plus are two direct competitors in the streaming service industry. Even though Disney Plus is a newer service it still is big enough to compete with veterans like Netflix. In this article, we will discuss which service is superior.
For this article, we have interviewed Lee Boedigheimer and Michael Schlott for their opinions on which one is the better service. To start off we asked Lee how long he's had Disney Plus, he said"I have had Disney Plus for a few months," We asked if it has a broad audience he said, "The shows are definitely fit for all ages with a price that is very fair and a lot cheaper than Netflix's price." Lee is Correct, Disney Plus costs $6.99 a month while Netflix costs almost double Disney Plus. Starting price at $10.99 standard, and ending at $12.99 Premium. We asked Lee if he thinks that Disney Plus has enough variety. He said, "There are clearly enough of a variety of shows to make me choose it over Netflix."
Mikie disagrees with Lee, "I have had Netflix from 6 months to a year, and I have mainly been watching my favorite shows: Stranger Things, and The Umbrella Academy" Mikie starts. "I got Netflix because it has a bunch of shows that you could not get on normal tv or something like cable. That is also why I think the price of Netflix is fair, and why I think it's better than Disney Plus " 
Netflix costs $10.99 which is more than Disney Plus, but Mikie says it is worth it for the content that you get.
Even though the prices are very different, the amount of content is one thing that Netflix has moreover Disney Plus. On the other hand, Disney Plus has countless classics. Both sides have pros and cons, but the choice is yours to decide. Is Disney Plus the winning underdog or is Netflix the reigning king?