West's Volleyball B team Wins Game 1 for the 2020 Season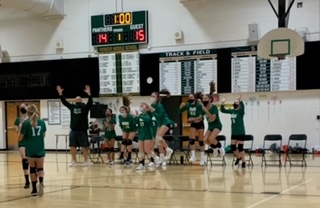 West's first volleyball game was this past Thursday. They played against Pioneer Middle School. West played really well. The B team won against Pioneer and A team lost. Both teams were impressed with their level of play for their first game.
"The B team won our very first game and the A team did good, but it's hard to play a hard team in your first game," stated Kennedy Steinagel, a 7th grader on the B team. "I was nervous at first but when I started playing it was so much fun!" 
The games this year look a lot different than last year. There were only two parents per player allowed in the gym and all players had to wear a mask during the game.
The B team played first. Delaney Fillman, a 7th grade player on the B team said, "I had a lot of fun, this team is a really fun team to work with, volleyball wise and just talking to each other. I wasn't bored, annoyed, or upset at any point of the game! I also am thankful to have teammates that don't think they have to carry the weight of missing a point." 
Delaney Fillman also said, "I think the West volleyball team has some flaws, we aren't as aggressive as most teams which can make a bad outcome of losing points, but in the end, we are a pretty good team for most of the players who have not been playing on a club team in past years, and we tried our best and won, so I think we are on top of it. I think we are really good at set-ups and serving which is half the battle because that is how you can get points quicker. Our receiving was a bit off, but in the end, that was expected, but it was still impressive that we had some really good passes!" 
"I love the game in general but I love being front line. Also, volleyball is a sport where everyone cheers for everyone so you don't feel bad if you make a mistake," said Kennedy Steinagel. "One of my favorite parts of the game was the winning point of our 5th set! I can't remember if it went off of two people's arms or just one, but it was a shanked ball and I still hit it over the net despite almost going to the crowd. I also liked when we were served at. I prefer offense and getting served at is just that because that gives you the first chance to attack!" It was the first game, so some people were a little nervous but West ended up playing really well!