Tom Brady wins his 7th Super Bowl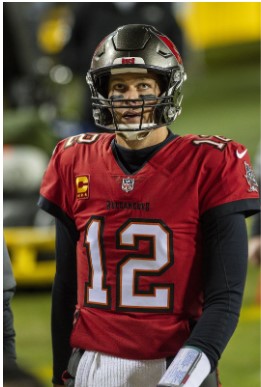 Tom Brady and The buccaneers win Super Bowl LV, On February 7th In Tampa Bay, For The Lombardi Trophy.
Super Bowl LV was the championship game of the National Football League, also known as the NFL, for the 2020 NFL Season. The National Football Conference, or commonly known as NFC, champion Tampa Bay Buccaneers defeated the American Football Conference, or the AFC, champion Kansas City Chiefs 31–9. The game took place on February 7, 2021, at Raymond James Stadium In Tampa Bay, Florida, the home stadium of the Buccaneers, marking the first time that a team played a Super Bowl in its home stadium. Due to Covid-19 limiting the stadium's seating capacity to 25,000 fans, it was the least-attended Super Bowl. 
Fun Fact: Tom Brady's Daughter Has held the super Bowl trophy more than The cowboys have been to the playoffs. Also, The Buccaneers' victory was their second and made them the only team other than the Baltimore Ravens to be undefeated in multiple Super Bowls. They finished the regular season with an 11–5 record and a wild card  to advance to their second Super Bowl appearance through the guidance of several new acquisitions, most notably veteran quarterback Tom Brady in his first season away from the New England Patriots, who was the Super Bowl's oldest player at 43.