Stella the Dog, The Mascot of Stella's Black Dog Tavern Passed away on September 1, but her legacy lives on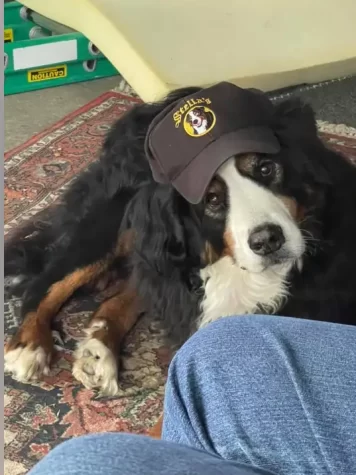 Do you know who Stella is? Well, if you don't, she's the beloved mascot of Stella's Black Dog Tavern in Downtown Plymouth. She was a 12-year-old Bernese Mountain Dog. Sadly, she died of cancer on September 1.
Dorothy, one of the restaurant's owners, says, "We aren't entirely sure what kind of cancer it is because it was so bad. But she had a huge tumor in between her lungs and her heart that was pushing on her trachea." 
Her owners were very lucky to have her. They used to give her treats and let her come to the restaurant every day. She especially loved cheeseburgers and salmon. But most of all, she loved her owners, Bob and Dorothy. They also run Stella's Black Dog Tavern. "She was his (Bob's) best friend, in dog format," Says Dorothy.
 "Bob used to come to this restaurant when it was named something else, and somebody else owned it, and Stella would always come with him," Dorothy states. Stella also used to do a lot of work at the veteran's hospital with people who were sick. She would always make them happier. Stella was a very special Bernese Mountain Dog, and there aren't many dogs like her that are restaurant mascots. Her fans love her books and loved seeing her there. 
Coming up on October 23 would be Stella's birthday. Every year, Bob and Dorothy would throw a birthday party for her at Stella's Black Dog Tavern and everyone would come over to celebrate her. Year after year, all the money they made would go to the Humane Society or buy a service dog. But this year is different.
"This year, we're announcing that we're launching a non-profit organization in Stella's name, and the non-profit is called Stella's Magic," Dorothy announced.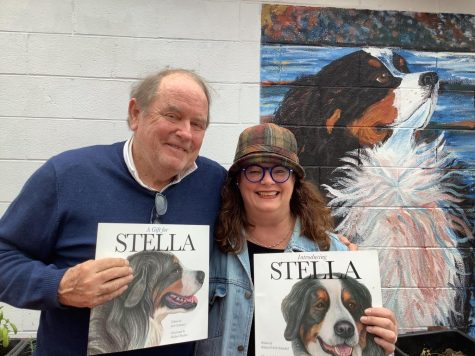 Stella's Magic has raised $10,000 dollars so far, and they are continuing to raise more money each day. The goal of this nonprofit is to help disadvantaged dogs and disadvantaged veterans. 
"If we can do that through service dogs, we're (going to) announce that for real on October 23rd." Start saving your pennies! 
Overall, Stella was a great dog and we will all miss her. As of now, there are no Stella books in the making, but Stella will always be with us in the Tavern.