No.1 Basketball Recruit in the Nation Commits to Michigan State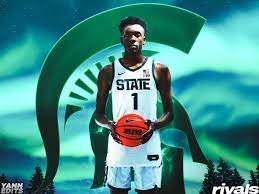 Xavier Booker is a 6'11 center and is the best basketball player in the nation. He is versatile at his size and if he had another option could play every single position. He plays like a mix of a small and power forward.
Booker already has 26 major Division one offers including Duke Gonzaga Kansas Indiana and many more but ultimately picked the University of Michigan State.
When you break down Booker's game you see his three abilities. Number one he is dangerous with the ball in any situation. Booker can drive to the hoop with extreme ease. He is an excellent finisher for a big man or he can just throw it down with power.
Booker is also an underrated playmaker. He draws attention to him wherever he goes and can pass it to his teammates for an open bucket. He has nice controlled passes but can also throw flashy assists to his teammates. When he is on the court he makes the team better which is a part of being a playmaker.
Finally, is Booker's shooting. He is a great shooting big. His midgame is perfect with a good three-ball. He has fluent motion and can get open. He puts up reasonable shots that go in.
If you are a Spartan or Wolverine you can not deny his all-around talent. He and this great Spartans recruiting class will make Michigan State a force to be reckoned with in not just in the Big 10 and nationally.