Many people believe that Netflix is the number 1 streaming service. We interviewed 6 people and every single person answered that Netflix was their favorite streaming service. However each reason as to why it was their favorite was different.
First we interviewed 7th grader Celine Saad ,"I like Netflix because it has many different shows." Netflix has many different genres for all ages. "I honestly think that when I watch Netflix it's usually like a movie on the weekends or something." Celine's favorite show is Outer Banks.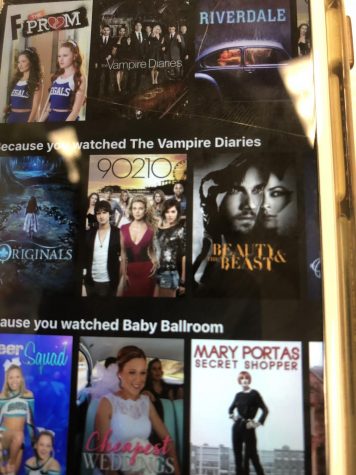 Avery Wilson agrees with Celine on the fact that Outer Banks is one of the best shows on netflix. "I like Netflix because it's mainly free and there's always something new to watch." She would describe OBX as an upbeat adventurous show. Sophia and I agree that Outer Banks is a very underrated show.
Norah Perkins loves to watch Netflix in her free time. "I watch probably the same amount of Netflix as Celine." Norah likes Netflix because it has her favorite show Grey's Anatomy. "I like Grey's Anatomy because of the plot twists, characters, and episodes about real life problems."Stella Stotz likes Netflix because of the variety of shows. "My favorite series on Netflix is probably Alexa & Katie. I like it because of the friendships , problems and solutions, and just in general it's a good show."
Joslyn Dawley thinks that Netflix is a great streaming service and everyone should love it. "My favorite show is Grey's Anatomy along with Norah, and I like Grey's Anatomy because it keeps you on the edge of your seat." Kenzie and I both agree that Grey's Anatomy is a really good show with many plot twists that definitely leave you shocked, and almost forces you to keep watching.
Kenzie and I would rate netflix a 8/10 but it's definitely our favorite streaming service, and definitely recommend you try it out!
Ginny and Georgia
Grey's Anatomy
Stranger Things
Outer Banks
Wednesday