Airpod policy is being enforced – explanation provided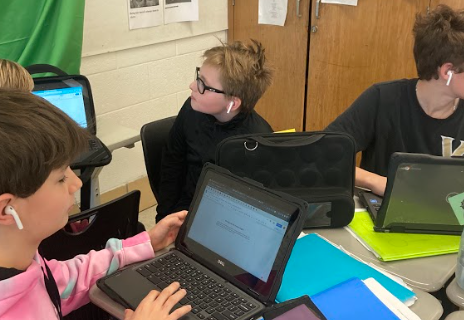 There is a "new" airpod policy at West Middle School. Students no longer can wear their airpods in the hallway. 
I've noticed that since this new policy was put into place, some students have become agitated and even very frustrated with it. They are upset that they cannot have their airpods in the hallways or out in class. 
 I decided that the best course of action was to get the inside scoop right from the source herself, West's assistant principal, Mrs. Kulczycki. Mrs. Kulczycki informed me, "The policy is not very new, we have had this policy since I have been at West, though we have started enforcing it more because students have not been following this policy recently."
Although students are agitated,  not many students have been caught with airpods since the policy was enforced. Mrs. Kulczycki added, "…but not many students that I know of have been caught with airpods."
Mrs. Kulczycki doesn't feel that airpods are necessary in the hallway,"I am not sure what the students think. I don't really understand the need to keep airpods in your ears in the hallways when they aren't connected to anything, or at least shouldn't be."
Nick, West 7th grader, "I like the policy because if anyone is trying to talk to you, like a teacher, you can't hear them."
Anna, West 7th grader, feels that they should be allowed. "At certain times because sometimes it would be nice to have music. I like music. The music makes me feel relaxed and makes me feel good for school." 
No matter how you feel, keep your airpods out when walking in the hall.