8th Graders-Here's What You Should Know About PCEP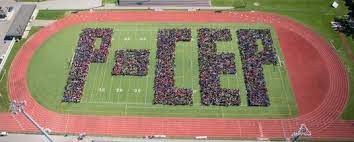 8th graders, have you ever wondered what it would be like to join one of the PCEP high schools? If you don't know what the high schools are already, PCEP is where you have three high schools on one campus; Salem, Canton, and Plymouth. It sounds big and scary, but according to a freshman at Salem Olga Bekiares, her freshman year has been a great experience so far.
"I like it a lot. There is a lot of work because you're in a higher grade, but there are also a lot of optional advanced AP classes and electives and you get a lot more freedom," Olga states. She also says you don't really need to walk fast to get to a class in a different school because passing time is 10 minutes, and the schools aren't very far apart. "There are requirements to graduate, you need art credits, two years of a world language, and one semester of health and gym."
Olga took gym and health first to get them out of the way. Since she is Greek, she has been learning the language for 10 years and does not need to take a world language class because she has already met the requirements of Salem High School. "Next year, as a sophomore, I want to take marketing, hospitality, and culinary arts [cooking classes]"
If you start your requirements young, as a freshman, or your language in middle school, you can take your senior year as a filler, meaning you will only be required to take 2 core classes and the rest of your 4 hours will be electives. Then, your mind will be fresh and ready for college.
What do you think? Are you ready for high school? What are YOU planning to do in the future?