New Domino's Pizza in Plymouth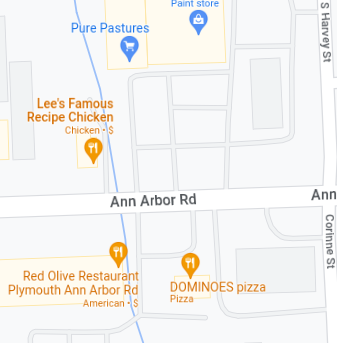 A New Domino's pizza location is opening on Ann Arbor Road across from Lee's Chicken. Currently, passerbyers are able to see the Domino's logo on the building.
We interviewed the V.P of I.T. Jason McMann to see what he had to say about this new location. "It should be good because it gives more delivery options to people in Plymouth."  More delivery options would mean more people buying Dominos, so they would make more money and customers would be happier.
"They have a great online ordering system." He continued. "The carside delivery system is excellent and the food is amazing." The pizza is very flavorful and the desserts are divine.
Nate's Favorite things to get are a pepperoni pizza with lava cakes and cinnamon twists for dessert. Sam's Favorite Pizza is just cheese with sausage. I also get the cinnamon bread twists and their amazing lava cakes. 
Be sure to visit this new Domino's when it opens! Make sure to order the cinnamon twists. This new location will be great for Dominos business and will be super convenient for the people in Plymouth.