Sealy? Tatty? Hwift? Maylor? But What About to Toe?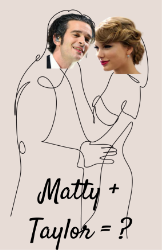 Once upon a time the planets and the fates and all the stars aligned. Taylor Swift and Matty Healy ended up in the same room at the same time.
Ladies and Gents this is the moment you've been waiting for. Taylor Swift has officially indirectly announced her new relationship with Matty Healy.
For those wondering, Matty Healy is one of the lead singers in the band 1975. He is 34 years old and, according to Healy, smells like "balsa wood". Some would argue that Matty is a good fit for Taylor. Others would argue that they want Joe Alwyn back. 
Now, let's get to the juicy stuff. Back in January 2023, Taylor had performed at a 1975 concert out of nowhere. No one thought anything of it, but now it all makes sense. Swift and Healy have always been friends with a little spark, and now they're really letting those Sparks Fly.
In the past few weeks, Swifties have started to speculate something going on between Healy and Swift. Now things seem to be confirmed. At the latest 1975 concert on May 4th, Healy mouthed the words "This is about you. You know who you are. I love you." and Swift mouthed the same words at her show the night after before performing Cardigan. Healy was also spotted at multiple of Taylors Nashville shows. Healy was not brought on stage to sing, which means he must have been there for Taylor and Taylor only.
Swift has also reported that she doesn't want this relationship to be private. She wants to be more public with her actions with Healy. In her six year long relationship with Joe Alwyn, Swift had wanted to keep her relationship private from the public. The tables have turned with Taylor's New Romantics. 
A source close to Taylor has also reported that Taylor and Joe had split back in February. Props to Taylor for being able to keep this secret from her fans, paparazzi, and everyone in general. No one had a single clue. This source has also stated that Taylor and Matty are "Madly in love" and "Facetime each other whenever they get the chance."
Swifties know All Too Well that everything Taylor does is for a reason. Swift always knows what she's doing, and I have complete faith in her that she will do the right thing; whatever that may be.