Blue Lake Fine Arts Camp- A Great Way to Add A Boost To Your Summer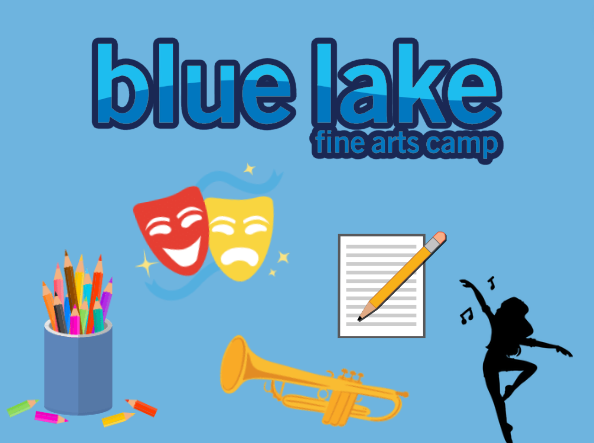 Sticky weather. Boring days at home. Nothing to do. This is the description of every kid's worst nightmare- a boring summer.
Luckily, I have a solution. If you are on the artistic side, and like summer camps; Blue Lake Fine Arts Camp may be a good fit for you. This 12 day, 11 night summer camp in Twin Lake, Michigan (2 hrs and 50 minutes from West) offers 10 "majors" and many "minors" to choose from.
The main programs that Blue Lake has are: Art, Band, Choir, Creative Writing, Dance, Harp, Jazz, Orchestra, Piano, and Theater. So, they cover a multitude of art programs that a lot of kids would enjoy! They also have minors that kids can take along with their main program during their free time, but there are a lot of them so look at the website for further details.
Now, there are some cons; like being away from home for 11 days, not having your phone, having to wear a uniform, or having to talk to new people and make new friends. But, this can be positive too! This camp gives you a chance to disconnect, meet some new people, and try something new! Also, the uniform is still summer-weather friendly, so no need to worry about that, But don't worry, you can still send letters to parents/relatives to keep in touch.
They also have activities to do during your free time when you aren't at your "classes"; like swimming, running club, basketball, beach volleyball, nine square in the air (something VERY popular at West), soccer, ping pong, or just hanging out at your cabin. They also have a shop called "The Happy Camper" where you can buy drinks, snacks, and many other items.
To help convince you further, I interviewed some students who went to Blue Lake last year, and plan to go this year, and I asked them what program they went for, and also why they go.
First, I talked with 7th grader, Norah Harvey. "[I go] for band of course." She then stated why she went. "It's a really great learning experience. You meet lots of people of all different skill levels."
Next, I talked with 8th grader, Emily Dancy. "I major in Band, and I play percussion. my first year I minored in music theory, my second, I minored in piano, and this year I am minoring in theater." She said, "I go because I have met so many amazing people there that I can't wait to see again. I also go because I am very serious about band and fine arts in general, so it's a great place to hone my skills and get good at what I do."
As you can see, this experience is very fun for anyone who enjoys the arts. Actually, around 25 known kids at West are planning on going/are interested, and I'm going for creative writing! For more information, like when applications are due, scholarships, uniforms, or anything else, click here. Are you planning to go/would like to go? If so, leave a comment below and happy camping!