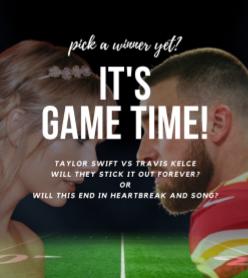 What might feel like old news to anyone is still big news in the Swiftie world. The spark between Taylor Swift and Travis Kelce is flying. Everyone is eating up this news because it affects not only the music lovers but also the football crew.
Some claim that Taylor and Travis are the best thing ever to happen, but others are having their doubts. Some think that Taylor and Travis are a money grab, but Swifties would argue that the couple is in it for the long run. Swifties say that since Travis is a family guy, and Taylor has said that she wants a family, maybe this is endgame. Fans have also pointed out the fact that Kelce is Taylor's 13th boyfriend, and since we all know that 13 is Swift's lucky number, this relationship might be fate.
It also appears that some fans might be turning on Swift's ex of 6 years Joe Alwyn. Everyone loved Joe, and many still do, but some Swifties are saying that he was a "bad boyfriend" by not wanting to share their relationship with the public like Swift and Kelce are doing now. 
Swifties are also saying that Swift and Kelce will work out because they have two different professions. Taylor is in the music world, and Travis is in the football world. They balance each other out. In Taylor's past relationships, some might argue that Taylor "overpowered" her actor/singer ex's because she was always going to be more famous because they lived in the same work world. With Kelce, that won't happen because they have two different work worlds. Taylor can't be more famous in the football world, and Travis can't be more famous in the music world. It's a win-win.
This relationship might also be good for the sports world. Now that Swift is attending football games, she has increased the range of football viewers. Taylor has also made Kelce more well-known. In the span of about a  week, Kelce gained over 1 million followers on his social media platforms, and his jersey sales have increased by more than 400% since Taylor attended her first Chiefs game. It has also been noted that Kelce plays better in the games Taylor attends. Not only is this relationship feeding the swifties, but it's also working in Travis's favor.
Although the Swifties are thriving on this relationship, football fans aren't too happy with the situation. When Swift attends games, the press is all over her, and the cameras are ALWAYS on her. Football fans want to watch football, not Taylor. I understand that this would be annoying for the football crew, but in Taylor's defense, she doesn't choose to have all of the cameras on her. Swift herself is just trying to enjoy a simple football game, and it's hard to do that when all eyes are on her. It also appears that Kelce's mom might be a little annoyed with Taylor too. In recent interviews, she was asked how she felt about Taylor being there and how it must have been exciting, but all she replied with was, "It's fine." She wants to be asked about her talented son for football, not his talented girlfriend.
At Argentina Night 2, there was a lot of Tayvis action. To start off, while Taylor was singing Karma, she changed the lyrics to fit her beloved relationship with Travis. Instead of singing, "Karma is the guy on the screen, coming straight home to me," Swift sang, "Karma is the guy on the Chiefs, coming straight home to me." Fans went crazy over this. Another Tayvis event was when Taylor sang Blank Space. When she sang the line "Cause you know I love the players," she pointed to Travis. Swift also sang Endgame, a song originally written about Joe Alwyn, as a surprise song with Kelce in the audience. During the song, the light-up wristbands lit up yellow and red-the Chiefs colors. To wrap up the night, Taylor ran to Travis after the show – still visible by fans – and the couple shared a kiss.
I personally hope this relationship will work out. I think the 2 are adorable together. The couple has a few kinks to work out with the fans, but after some time, things should settle down. Whether you're a Swiftie or not, you've got to admit that they're pretty cute together. Do you think Tayvis will be endgame?