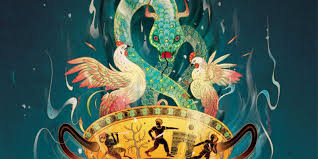 Recently there have been a lot of new popular books being sold, some from an ongoing series or maybe just a new book from a starting author.
Rick Riordan made a 5 book series called Percy Jackson, but he made it a 6 book series by adding The Chalice of The Gods. After reading this book, I highly recommend it because for one it has references to history. Secondly, I might be a bit biased because I love his books. This was published in 2023.
The next book was published in 2021, but it is super popular and still treated as brand new. One of Us is Lying is about four people being accused of murder, after clarifying it wasn't any of them, they go to find the real murderer. Someone is blackmailing them with their own secrets, so they have to be slick and very quick if they don't want to get caught.
The Fowl Twins is a new spin-off of Artemis Fowl, and it was released in 2021. It's about Artemis' little twin brothers that are nothing alike. They are left to take care of the security system for one night. They meet and befriend a troll who leads them to lots of danger.