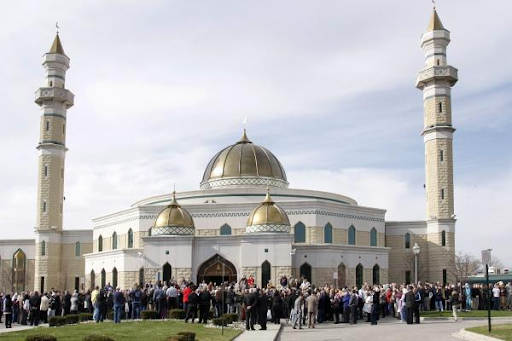 The selected RDJ students went on their field trip to the Islamic Center of America on November 9th,  2023. RDJ is the Religious Diversity Journeys, where seven selected students from each school go on field trips to learn about different religions. 
The first place we went to was the Islamic Center of America, so we all took a bus there from East. Once we arrived, the girls had to wear Hijabs. Hijabs are a piece of cloth that cover your head. We were split into three groups and each group did something different, until we switched. 
One of the things we did was calligraphy, which is where you write in Arabic and draw complicated designs. You write with precision, but most of us were inexperienced and it wasn't as good as the ones we were shown.
We were shown how they pray, and they have a room filled with calligraphy in Arabic. To go into the room, you have to wash your forearms and face. They speak Arabic in their prayers, and the men stand in the front while the women stand in the back. When we had lunch, they gave us fries, pita, and a vegetarian chicken wrap. Everything was good, but everyone agreed that they didn't give us enough food.