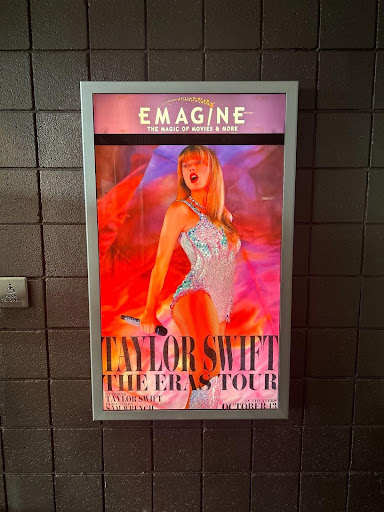 Whether you're a swiftie or just liked a few of her songs, the Eras tour movie is a great choice for people who didn't get to go to one of the concerts. The movie is a dynamic recording of Taylor Swift's last US concert in Los Angeles. We get to see her perform a few songs from each of her albums. Even if you did go to a concert, you can get a closer look at Taylor in the movie. For the swifties who didn't get the concert experience, I recommend going to the movie after one. 
I had gone to the movie showing at one and it had been quiet for the whole movie. However I talked to my friend who had gone to the same theater at two and everyone was singing and dancing. (I was silently yelling at myself for going to the one o' clock showing). I give the movie a 7/10. I loved it, but it was a little sad that everyone was just sitting there.
One of the things that you can get is a collectable cup and popcorn bucket. Most of the popcorn buckets are sold out but there may be more cups left in theaters. When I had gone the theater wasn't very full with a few good seats left. The showings are estimated to last until November 10th. For people who don't like staying in one spot for a while the movie probably isn't for you. It takes 2 hours and 49 minutes to get through the movie. The best thing would be to go with friends. If you're a swiftie and have a birthday coming up soon I recommend booking an event at the theater so that you and your friends can get the theater to yourself. 
Another thing I loved about the movie was the transitions between the albums. My favorite had to be the reputation transition. The outfits, dancing, and pretty much everything was absolutely amazing. Even if you're not that big of a swiftie if you like fashion or just entertainment the Eras Tour movie is a great choice! And for those of you who like taking pictures, depending on your theater there may be some good photo ops! Bring your bracelets because there should be people trading there like at the concert.
Taylor Swift is an icon and now we get to see her on the big screen. Go check out the Eras Tour movie today!