ELECTIVES: HOW THEY'RE SCHEDULED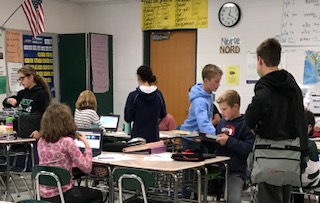 Journalism. Choir. Gym. These classes are all called electives. These classes are added to the students West Middle Schedules. These classes give students opportunities to learn about topics that they enjoy. Electives are liked by many students, and disliked by many as well.
If your elective request wasn't honored, it might be because of the other electives you signed up for. Choir, Band, and Foreign Language classes are longer than just a quarter. This interferes with your other elective choices.
Then there are certain classes that you have to take depending on your grade level. "6th graders must take Health, Gym, Stem, and 21st-Century Skills," says Mrs. Howe, West Middle School Counselor. If you take Band as a 6th grader, you have no choice on what your schedule will look like.
When you turn in your schedule, the counselors take the papers, and do something called a 'Pre-Schedule.' "Once all of your information is locked in, Mr. Smiley then takes the schedules and puts them in the loader," Mrs. Howe tells us. Mr. Smiley divides the number of students in each grade by 30.25 (the number of students that should be in every class).
At every hour of the day, there needs to be a certain amount of places for students to be for each grade. 6th grade has eight places, 7th grade has nine places and so on. Mr. Smiley, the West Middle School Principal, states, "I make various versions of this information and I start working on it in February and have 20 copies of it by August and 20 to 30 different copies total." He combines the teachers and students to create the perfect schedule.
Lastly, the counselors check everything on the computer. If something isn't right they fix it and then print for schedule pick-up.
"Also, less than 20 people get the wrong schedule," states Mrs. Howe, a counselor at West Middle School. That's actually not a significant amount of people if you think about it. There are more than 250 students in each grade, and only about 20 of them get the wrong schedule.
Your electives also depend on what math class you have. The math class you have might cause mistakes on your schedule. There are so many different levels of math and math teachers, that mistake can easily be made. If you have a question, go see your assigned counselor's office and ask them about your schedule.
Many people feel a certain love or hate for the electives. For example, Kyle Pierson says, "I hate them. I got "Think About It" and I wanted gym." He states the electives have to have moving, physical education, and sports.
Also, Mira Vulaj mentions she likes her classes this semester, but not 2nd semester. She wanted LME and Gym. Mira adds that she just needs a good curriculum and a fun teacher, for the class to be enjoyable. Nate Sulak and Emma Blaies felt okay but their electives. They both wanted different electives.
There is a point to every elective. 21st-century skills can help train you for your future, and Journalism makes you a better writer. Your teachers don't choose you. Although according to Ms. Medley they choose the elective to a certain limit, they don't get an opinion on which students they want. However, both Mr. Foley and Ms. Medley both agree, some students don't put in their best effort because they don't enjoy the class. Doing your best may make the class better.
Whether you got what you wanted or not, it's important to know why you got certain elective. There is a tight procedure of things that need to get done, and you or your teachers might not always be happy. Just because you don't have a class with your best friend, or it's a class many people have complained about, doesn't mean you won't like it. Just put in your best effort and it will all be okay.