Majszak, Wooster, and Foley fight it out in their Fantasy Football League!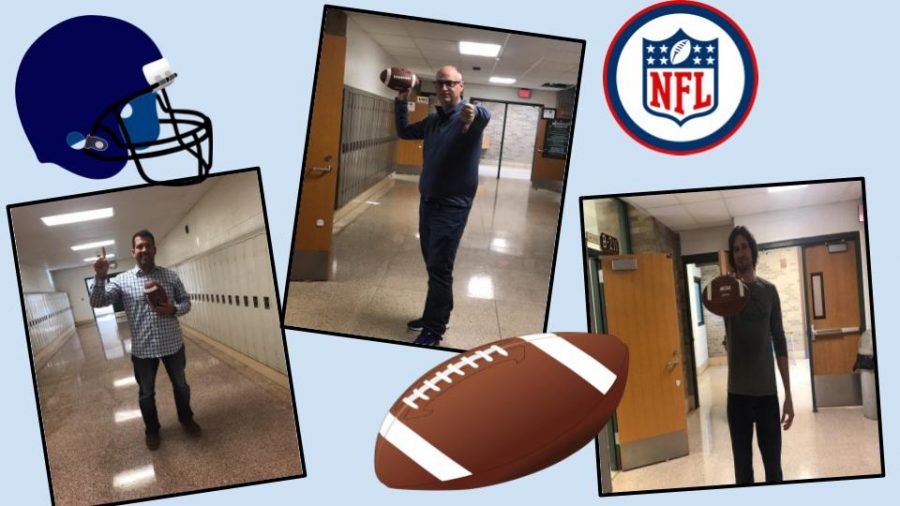 Luke Zajdel and Caedmon Whipple
October 9, 2019
Did you know there was a football rivalry between our teachers?  Mr. Foley, 7th grade Social Studies teacher, Mr. Majszak, 7th-grade science, and Mr. Wooster, 7th/8th-grade social studies teacher all compete in a fantasy football league. These teachers have been in this league for two years now and are having a grand time playing. 
Fantasy Football is an app where people can "draft" real professional players to be on your team. Your team competes against and your friends' teams and other online players. You earn points if the players that you drafter perform well in their real weekly games. The person with the most amount of points at the end of the week wins that round. Fantasy Football is played by many as either a hobby or just a fun game to play against friends.
Our AMAZING teachers met to discuss how each of them is doing in their league. Mr. Majsazk is currently sitting "comfortably" in first place in the league. Mr. Wooster is currently in the last place and is happy to be there. Last place winner get the first-round pick during their next "draft".  Mr. Foley is putting up an average show in second place. 
In second place is Mr. Foley who doesn't seem to be in bad shape in the league but still seems to have some stuff to work on. Mr.Foley states, "Sadly his favorite team is the Lions." But his favorite team in fantasy is the Rams because that gives him Todd Gurley and Robert Woods. The one player he wanted most to get in the draft was Saquon Barkley who is a "beast machine" of a running back. Saquon Barkley is standing at six foot 234 pounds. The one team Mr. Foley thinks is going to win the Superbowl is the Patriots and he says he's gonna stick with them till he's proven wrong. Also, Mr. Foley said he thinks the Bears may have a chance just because of how well they have built their offense.
Mr. Wooster doesn't seem to be shaken by his poor performance. He is now trying to get in the last place to get next season's first-round draft pick. Mr. Wooster seems to still have faith in the grand old Patriots to win the Superbowl, but still his favorite team is the Lions. Also, he was extremely unlucky in the draft because three of his four quarterbacks were injured. The one player he was hoping to get in the draft was Benny Snell, a five-foot-ten 225 pound running back out of the University of Kentucky. Benny Snell is a Pittsburgh Steelers' running back. Mr. Wooster's favorite part of Fantasy Football is that it makes watching the live games more fun and he loves the "trash talk".
Luke Zajdel, seventh-grader, admits, "I always found it funny how in sixth hour Social Studies, Mr.Majszak would come in before the hour and would talk about fantasy football with Mr. Foley. It usually was one of the funniest parts of my day."
Mr. Majszak seems to be very content with the way his roster fell together. He also believes that the team with the best chance of winning the Superbowl are the New Orleans Saints. His favorite team to watch is the Kansas Chiefs, but his all-time favorite team is the Detroit Lions. The one player Majszak was hoping to get was Christian MacCaffrey, a five-foot-eleven, 205 pounds powerhouse of a running back, and return specialist for the Carolina Panthers. We asked why he liked to play Fantasy Football and Mr. MaJszak said,  "I like it because it's fun trying to foresee how a player will perform based on matchup and team chemistry. It also makes watching the NFL tolerable. I find myself watching games I don't even care about because I want to see 'my player' play and get points." 
That's the wrap up on your Fantasy Football teachers. Thank you Mr. Majszak, Mr. Wooster, and Mr. Foley for keeping us all entertained.