2 Players Gather at the Faceoff X, the 2022 NCAA Lacrosse Tournament is Underway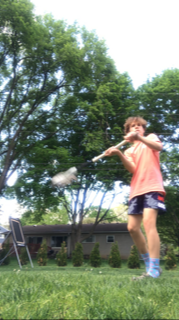 Overtime thrillers are with no exception the best way to start off a tournament.
3rd seeded Penn scored a goal with 30 seconds left against unranked Richmond in the 4th quarter to tie the game at 10. Then, Penn's Ben Smith became the overtime hero for the Quakers, sending Richmond home.
The 2022 NCAA lacrosse tournament is underway on May 14th, with 18 teams battling it out for the top spot in Hempstead, NY, and Hartford, CT. 
This season there have been several powerhouse teams. Most of those teams are a part of the Ivy League. "The Big Ten has the sport's top heavyweight in Maryland, which has more talent and depth than any other team in the country. But the title for the best conference in 2022 goes to the Ivy League. It doesn't have a clear top team but offers tremendous balance with No. 3 seeded Penn, No. 4 Yale, No. 5 Princeton, No. 7 Cornell, and No. 8 Brown," stated Mike Preston, a sportswriter for The Baltimore Sun.
Maryland and Virginia battled it out during last year's championship. They were trading goals until Virginia pulled away to seal the deal by 1. "Maryland fans are in a sour mood because the Terps might have to face two-time defending national champion Virginia in the quarterfinals. Maryland fans don't want that game, not after the Cavaliers' 17-16 triumph over the Terps in last year's NCAA title game and the Terps' controversial 13-12 quarterfinal loss to Virginia in 2019," stated Preston. 
Every year, one player is selected to be the winner of the Tewaaraton Award. The Tewaaraton Award is given to the most outstanding NCAA player for that season. The five finalists for the 2022 season are Chris Gray (UNC), Logan Wisnauskas (Maryland), Sam Handley (Penn), Brendan Nichtern (Army), and Connor Shellenberger (Virginia).   
Maryland is having an undefeated season and the chances are, they might win it all this year. I think Virginia will win because of their offensive and defensive skills. WMS 7th grader Liam Villalobos disagrees. "I think Maryland will win because they are 14-0 and their faceoff man is good," stated Liam.