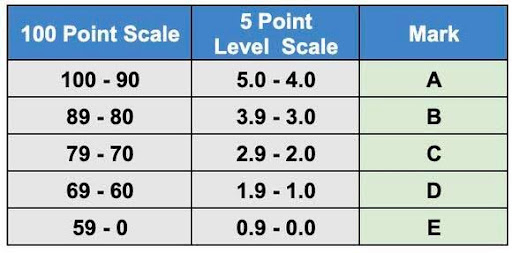 The new grading system in Plymouth Canton Community Schools is very different from our old one. Our previous grading system included something called the A-F grade. They removed F's because they wanted it to be more simplistic, or easier to understand. Our new grading system, called the 5 point level scale. As you can see from the picture, your marking on a 'learning checkpoint' or quiz will be between a 5.0 or 0.0. Depending on how good you did on the paper, your score will be added to your overall grade. 
Mr. Calzone is our new assistant principal. I asked him about our new grading system. I can't quote exactly what he said, but it was something along the lines of "Let's say you didn't do your practice but aced your tests. Your friend did their practice and aced their tests. You should have the same score, but with the practice they did it would put them higher." Since that's not fair, they changed it so that it revolves more around tests.
Some people say that this will benefit our grades, some say it will not. The pros of the new grading system are, for one, it is simpler to see where you stand. But the cons are it relies on quizzes only, putting a lot of pressure on students for the smallest tests. 
Another con of the grading system is it doesn't as much represent what a student is learning, more such the tests. These are the pros and cons, and more information, on the new grading system. Fun fact, they started planning this before last year's school year ended!