Martin Luther King Jr. Day is this Monday!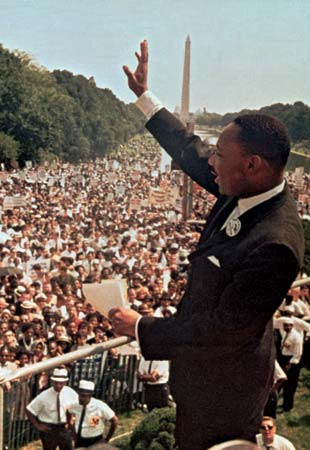 Hang on for a minute...we're trying to find some more stories you might like.
MLK day is on the third Monday of every January. Martin Luther King Jr's speech in Washington D.C. ended segregation. He believed that segregation was unfair and needed to be ended.  Segregation is the separation of people by skin color or ethnicity.
Martin Luther King Jr was born in Atlanta, Georgia on January 15, 1929. When King was only eleven years old, he was hit by a white woman. At age fifteen, Martin was admitted to Morehouse College. His first civil rights moment was when he led the Montgomery Bus Boycott, during that boycott his house got bombed. In 1964 King became the youngest recipient of the Nobel Peace Prize. In 1963 Martin said his iconic "I have a dream" speech. Sadly in on April 4th, on a Thursday in 1968 King was assassinated by a sniper by the name of James Earl Ray, James faced 99 years in prison from that day on.
In 1953, Martin Luther King Jr. married Coretta Scott and had two sons. King had a family of four children named: Martin Luther King lll, Bernice King, Dexter King, and Yolanda King.
Here are more fun facts we collected when researching MLK Jr. :
When Martin was driving 30 mph in a 25 mph zone he was arrested.

King was thrown in jail almost 30 times.

Martin Luther King Jr. got a C in his public speaking class.

There are over 730 streets in the United States named after Martin Luther King, Jr.

When MLK Jr. was assassinated he was standing on his motel balcony at

Lorraine Motel in Memphis, Tennessee.
J.J. Gardener, a seventh-grader from West, stated that he thinks Martin Luther King Jr ended segregation so that everyone would have equal rights. He added that on MLK Day himself, he just enjoys his day off of school.  
Martin Luther King Jr. was a huge part in history. He ended segregation and he had a hard life, but he powered through all the tough times in life to bring us all together on one untied earth. When you are enjoying the day off from school this Monday, January 21, stop and reflect on how you can promote unity in our school.
Works Cited
"Martin Luther King, Jr.." Britannica School, Encyclopædia Britannica, 15 Jan. 2019. school.eb.com/levels/middle/article/Martin-Luther-King-Jr/275278. Accessed 17 Jan. 2019.
"Martin Luther King, Jr." Ducksters Educational Site, Technological Solutions, Inc., www.ducksters.com/biography/martin_luther_king_jr.php.