The MSU and U of M Rivalry lives on at West!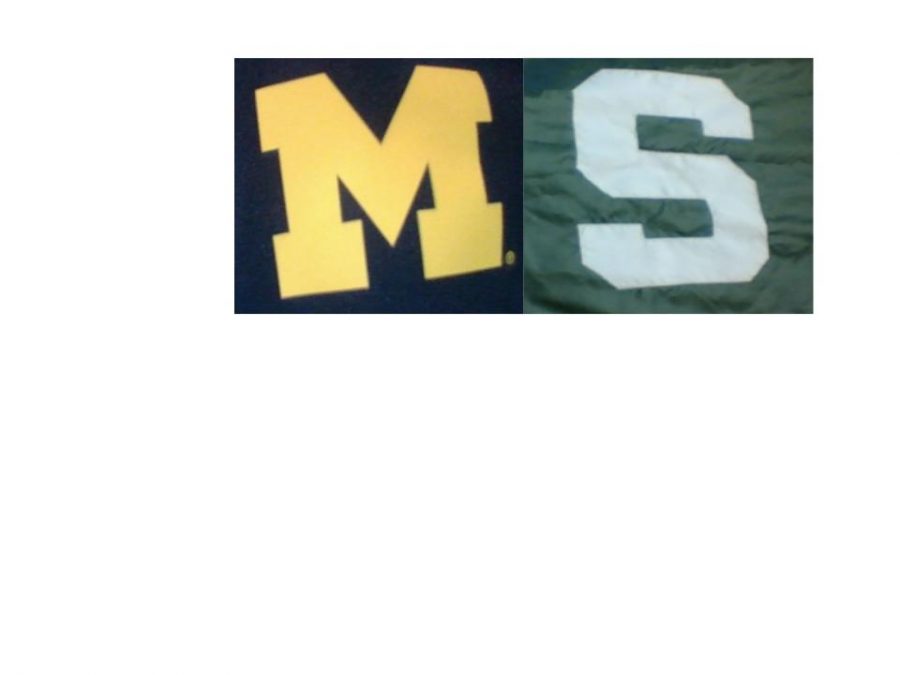 Clare Binder and Marisa Haratsaris
November 13, 2019
This week is MSU and U of M week at West. The two teams will play this Saturday, November 16 at noon. Fans, it is time to gear up and cheer on your favorite team!  Michigan vs. Michigan State is the most popular rivalry at West Middle School between teachers and students. So, why do fans think their team is the best?
 Jackson Brickey, a seventh-grade student at West stated, "Michigan is a better team and that MSU is trash".  He got his love of Michigan from his Dad, who went there for college. "Michigan State is a bunch of crybabies." He likes Michigan a lot better!     
Whereas Tess O'Donnell, another seventh-grade student at West, likes MSU better, "…both of my parents went there, and I just grew up cheering for them." 
Mr. Majszak, the West Middle school seventh-grade science teacher and STEM teacher said that he liked MSU better because when he grew up, everyone was a Michigan fan, and he wanted to be different from everyone else. He then started meeting more people that liked MSU, so it stuck with him. 
Mr. Barnes, a 7th-grade math teacher and math strategies at West, states, "I'm not a big college sports guy, but definitely if it came down to it, U of M." He also says he has nothing against MSU, but all his family members were U of M people. He doesn't have anyone in his family that is an MSU fan. He likes U of M because of his family, as do most people.
It is a well-known fact that Principal Smiley loves Michigan, whereas Assitant Principal Kulzycki bleeds green and white. This just adds to the split at West Middle School.
It's safe to say that family history has a big impact on who people cheer for. 38% of Bite users said they prefer Michigan State and 62% bleed maize and blue!  
So, West students and staff, be prepared for friendly smack talk all day on Friday and for gloating fans on Monday.
Comment below and let us know who you cheer for!