The Liberty Festival and the Fall Festival add to the Plymouth-Canton Community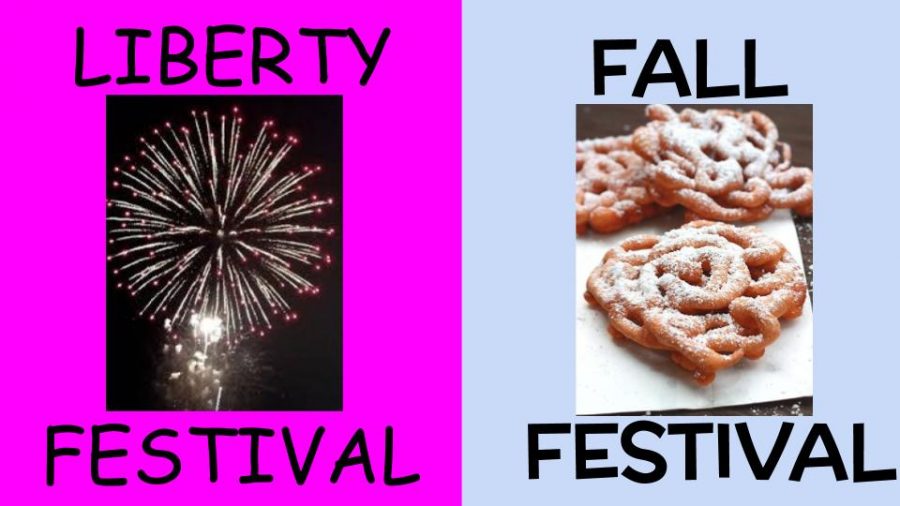 Emily Fagerman and Nia Wood
November 18, 2019
The Plymouth Fall Fest and the Canton Liberty Fest take place every year and are loved by West students. If you have not attended both festivals you are missing out!
The Liberty Festival in Canton was once a festival called "Cow Chip Festival". The festival use to have competitions like who could throw the piece of cow dung the furthest. There was also a "Cow Chip Festival Queen".  Now Liberty Fest has very many NEW events. Some rides that been at Liberty Fest in the past are the Ferris wheel, Cliff Hanger, Alpine Bob, Supernova 360, Twin Flip and the Zipper, Top Gun, and much more!
Leisure Services Deputy Direction Jonathan LaFever reported that he is unaware of what rides will be attending the 2020 Liberty Fest. Jonathan LaFever states, "There is no admission fee to get into the Festival, and many of the activities are free – there are established fees for the rides and midway games." The next Liberty Fest will take place from June 18 to June 20, 2020. If you attend on Saturday evening there are fireworks. Each night, all rides and games have lights to keep the park bright. Canton Liberty Fest is located at Heritage Park in Canton.
 The Plymouth Fall Festival is a common festival that people go to in the fall. It is located in Downtown Plymouth and is usually around the first or second week of September. The festival is a weekend long. The city prepares for Fall Fest by blocking off roads Downtown. The Fall Festival contains events such as bingo, a car show, a craft show, pancake breakfast, a pet show, the Rotary BBQ, a spaghetti dinner, a taste fest, lots of booths, entertainment, and carnival rides. There are only a few rides for both older and younger kids, but kids have lots of fun because you can enjoy your time with friends and you can go rides and eat. Plymouth Fall Festival also has sponsors lined up around the fountain such as Credit Union, Raymond James, and more.
Isabelle Smedley, a West seventh grader, states, "Fall fest because there is a lot of food, and lots of rides, and how it is in downtown Plymouth because it is closer to my house." Caedmon Whipple, West seventh-grader, likes Liberty Fest because "the rides are super crazy and there isn't a big wait because there are lots of rides"

We are lucky to have both festivals in our home towns. Whether you're a Plymouth resident or a Canton resident, make sure you attend both festivals!