Cool DIY Phone Cases!
Ryann Zaenglein, Reporter
November 20, 2019
Sponge Fries:
1: Cut a yellow sponge into strips so that they look like fries.
2: Hot glue a piece of felt that looks like a McDonald's fry box to the bottom of a phone case.
3: Hot glue the "fries" to the phone case inside the felt fry box.
Emojis:
1: Cut a yellow piece of foam into a circle.
2: heat a clothing iron to 212 degrees F.
3: once the foam has turned into almost a half-sphere, take it off the iron
4:draw an emoji face on the circle with a permanent marker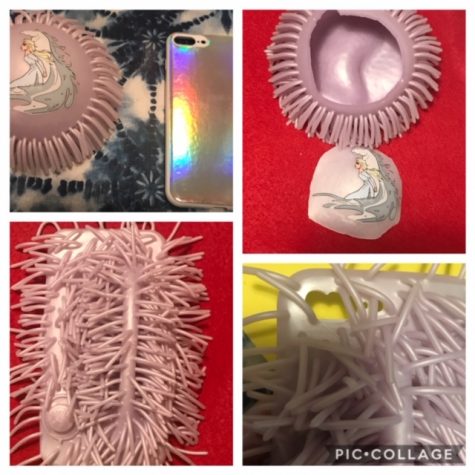 Jelly light-up ball:
1: Buy a jelly light-up ball with a face.
2: cut the face out of the ball. 
3: put the phone case inside the ball so the screen will show through the hole in the ball
4: cut out a hole for the camera and flashlight. 
Egg:
1: make a blob with a hole in the center out of hot glue on the case.
2: paint the blob white,
3: Cut the neck off a yellow balloon.
4: fill the round half of the balloon with slime.
5: hot glue the balloon filled with slime to the hole in the blob.