Marvel Phase 4: Everything you need to know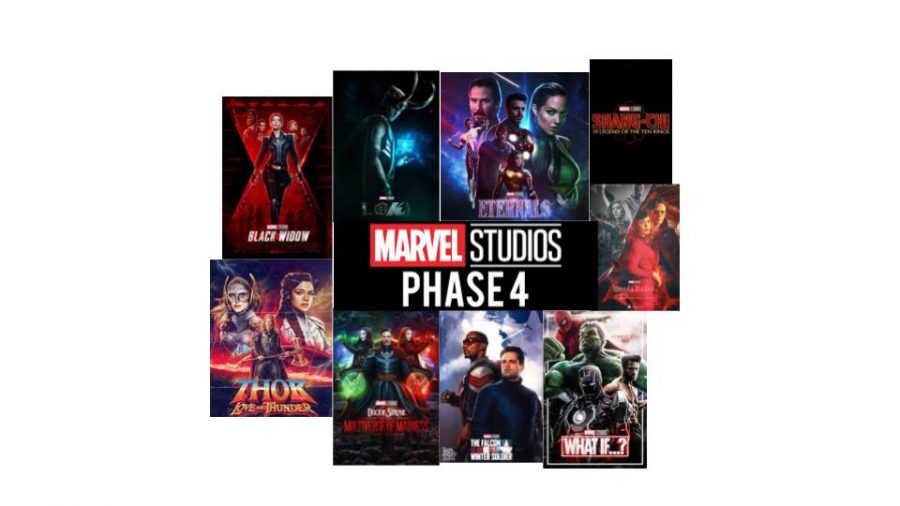 I think Avenger's Endgame stole the hearts of every MCU fan. Endgame was the final end of Marvel phase 3. Phase 3 started with Captian America: Civil War in 2016 and was finished off with Avengers: Endgame. That's not all Marvel studios has to offer Phase four begins with the Black Widow movie in 2020. There will also be a five-event series on Disney+. 
Black Widow is set after Avengers: Civil war and promises to reveal more about her past.  Most of the details are up in the air but the poster shows Natasha Romanoff (Scarlet Johannson) butting heads with the Taskmaster, who appeared in the Avengers comic #195. 
Eternals, a marvel movie based on the comics about the race of the Enternls.Its release date is set for November 6th, 2020. After a tragedy after Avengers: Endgame, an alien race created by the secret earth dwellers- the Celestials, come together to protect humanity from their evil counterparts, the Deviants. 
Shang Chi and the legend of the 10 rings is next. Not much is known about the actual movie other than past marvel knowledge. We do know that the 10 rings are the terrorist group that captured Tony Stark and forced him to build a bomb for them.
At the end of the first Doctor Strange, we were awakened by a wonderful sight. Doctor Strange will return. And he's finally back! Returning in his newest movie Doctor Strange in the Multiverse of Madness. Again a lot of details about the actual movie are up in the air but, it is still scheduled to come out in 2022. 
Thor: Love and Thunder were pretty unexpected. The 4th thor movie will have the same cast and have Taika Waititi, returning as director. Natalie Portman returns as Jane Foster who was absent in the previous Thor movies and is coming back as female Thor! Thor will still be played by Chris Hemsworth. 
The next is actually a TV show on Disney+, starting the 5-event series,  the Falcon and the Winter Soldier. Sam Wilson AKA the Falcon (Anthony Mackey) took on the job of being the next Captain America. He will team up with Bucky Barnes/ The Winter Soldier (Sebastian Stan). Marvel suspended production on March 10th when COVID-19 became a problem. 
The next is WandaVison. The production was stopped and the release date was pushed back from 2020 to 2021. Not a lot is known but Kat Dennings is returning as Darcy Lewis, who was in Thor: The Dark World. 
The Loki T.V. show came as a surprise because, Spoiler Alert, Loki died in Avengers: Infinity War. this tv series is based on a 2012 version of the God of Mischief played by Tom Hiddleston. 
The next is What if…? It's an animated series based on the comics of the same name. It is set to come out in 2021. It looks at what would happen if major moments in the films came out differently. 
Many more films are still being confirmed about phase 4 and 5 (yay). Fans suspect that the Avengers will return in phase 5! Again many things are left up in the air but we do know that phase 4 is going to rock!
Works Cited
Fujikawa, Jenn. "Marvel Phase 3 Movies: Marvel Cinematic Universe (MCU) Phase 3 Guide." Marvel Entertainment, Marvel Entertainment, 3 Jan. 2019, www.marvel.com/articles/movies/the-essential-marvel-cinematic-universe-guide-phase-three.
Hersko, Tyler. "'The Falcon and the Winter Soldier:' Everything You Need to Know About the MCU's First Disney+ Show." IndieWire, 10 Mar. 2020, www.indiewire.com/gallery/falcon-winter-soldier-disney-plus-release-date-how-to-watch/avengers-endgame-film-premiere-arrivals-la-convention-center-los-angeles-usa-22-apr-2019-19/.
Richards, Will. "'Black Widow': Release Date, Plot and Everything We Know so Far." NME Music News, Reviews, Videos, Galleries, Tickets and Blogs | NME.COM, 9 Mar. 2020, www.nme.com/blogs/the-movies-blog/black-widow-release-date-trailer-plot-cast-2534223.
Sandwell, Ian, and Gabriella Geisinger. "Thor: Love and Thunder – All You Need to Know." Digital Spy, 27 Apr. 2020, www.digitalspy.com/movies/a27237155/thor-4-release-date-cast-trailer-plot-villain-spoilers/.