10 Things to do in Your Spare Time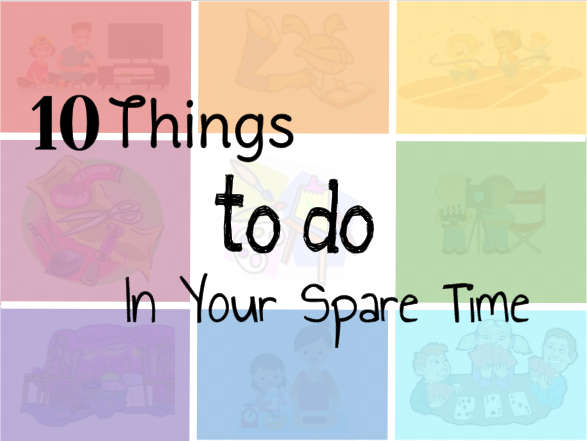 Have you finished your school work and have time on your hands? Are you sick of the same old, reading a book, or watching a show? Here are ten things to do in your free time. 
1. Perfect a video game
Do you have a video game that you enjoy, but you're not the best at it? Or is there a game you've always wanted to play, but never have been able to before? Now is a good time to start, but of course, don't spend all day on it. When things start getting better and you can have friends over again, you can invite friends over and show off your new skills.
 2. Write a letter to a friend
It's hard to stay in touch with friends, but what about being old fashioned and writing a letter?  Having a pen pal gives you something to look forward to when you get mail.
3. Make an obstacle course
Test your physical abilities by creating obstacles using things you find around the house. You can do your course outside once the weather warms up. If you need to entertain a younger sibling, make a course for them to attempt. Or challenge your parents!
4. Make a movie
Instead of watching movies, make your own. It could be a one-person show or you could get your siblings and parents involved. You can even message friends to do scenes and send them to you. When you have all the video clips you can edit them together using iMovie or any other editing app.
5. Cook or bake
What's better than freshly made food? There are recipes all over the internet, plus, you might have special family recipes. Plus, cooking is an important life skill.
6. Make a fort
Need a change of scenery? Well, you can gather up blankets and create a fort. You can use any big items to prop up your fort. Create a place to relax, do school work, read, write, just about anything.
7.  Journaling, creative writing or poetry 
In these troubling times, you might find that your mind is at work and confused. Journaling is a way to keep track of the days. Creative writing is a way to write stories and express yourself. You could also write poetry, which is self-expression in a different way.
8. Sewing 
If you took LME in sixth grade, you got to learn about how to make a neck pillow and sew a button. If not, now's a good time to learn. If Yes, you can expand your sewing knowledge.
9. Painting, drawing, origami or other art
Art can be very relaxing. Painting and drawing are the two most common types. Once you finish with your schoolwork, it's a great way to unwind. Also, Origami is a popular art with tutorials all over the internet.
10. Card games and/or tricks 
Be like Antman on house arrest and learn to do close up magic to show off to your family and to your friends when you see them again. You could also play card games with a sibling. There even are some card games you can play by yourself.